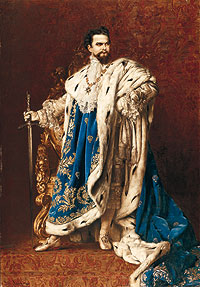 It is hard to make your mark in the world, especially as an artist. To create wonders but others can't see what you're trying to accomplish. It is especially hard when they expect you to be something you are not and you're not given the choice of what to be. No one probably knew this better than Ludwig Otto Friedrich Wilhelm also known as Ludwig II the "Mad King" of Bavaria.
His Majesty was born on August 25, 1845 at Nymphenburg Palace, the summer residence of the Royal House of Wittelsbach, today in a suburb of Munich. His parents Maximilian II (then Crown Prince) and Marie of Prussia wanted to name him "Otto" But his grandfather; the current king of Bavaria, Ludwig I, insisted that the new prince be named after him since they shared the same birthday. His parents later named his brother Otto. As a child he and his brother were both drilled with the burdens of monarchy at early ages and Prince Ludwig was usually controlled by royal tutors and very strict studies but was never interested in politics. He was also never close to his parents and preferred his grandfather (who was also a bit of an eccentric himself, writing bad poetry about pretty much anything). He grew up at Hohenschwangau Castle near the Schwansee Lake. The castle's Gothic Revival decorative style full of frescoes of heroic German sagas were very influential to him later in life. Ludwig was a great lover of arts, especially music, architecture and the Romantic operas of the distinguished composer Richard Wagner. He even became Wagner's patron during the first half of his reign. He was also close friends with his aide-de-camp Prince Paul of the wealthy Thurn und Taxis family, until he was engaged in 1866 and the Duchess Elisabeth of Bavaria, a distant cousin who was later Empress of the Austrian-Hungary Empire.
Prince Ludwig became king at age 18 when his father died on March 10 1864. Although he was unprepared and uninterested in the position he was a popular monarch due to his age and good looks. He never liked large public functions and avoided large public social events as much as possible. Instead he preferred to travel the countryside chatting with locals and distributing lavish gifts to those who were friendly to him. While these did help his image with the people, it made him butt heads with the ministers (he never bothered to appoint new ministers when he started his reign, just kept his father's). Also more trouble was heading his way, the Austro-Prussian war reared it's ugly head just two years after he came to the throne and King Ludwig supported the losing side. Soon Bavaria was forced to ally with Prussia and later joined the North German Confederation. They did fight with Prussia and the other German states against France in the Franco-Prussian War in 1870. Their victory led to the birth of the mighty German Empire the next year. Ludwig would continue to rule Bavaria but now under Prussia's control, although it would still enjoy a number of freedoms as a kingdom. Still, he was very unhappy about Bavaria's loss of independence and even refused to attend the Proclamation of the Empire in the Palace of Versailles, France. Instead he sent his brother Otto and uncle Luitpold as his representatives.
The king withdrew from public life and began focusing on his real passions of the arts and the works of Richard Wagner. He worked to introduce famous operas, plays and ballets across Europe to his subjects and is said to have seen over 200 private performances in his life. He also started creating his greatest claim to fame, castle building. Inspired by his love of fantasy and the places he visited in France and Germany prior to the Franco-Prussian war, he designed several elaborate castles, as well as the interior, across his kingdom. He created the famous Neuschwanstein Castle near his childhood home, the small Linderhof Palace which was the only one completed during the king's life, and on an island on Bavaria's largest lake, the Chiemsee, he built the Herrenchiemsee, an intended copy of France's Palace of Versailles. Ludwig also created a winter garden (or open conservatory)n to the Official Royal Palace, the Munich Residenz. He had plans for many more castles including a Chinese Summer Palace and the magnificent Falkenstein Castle that would even outdo Neuschwanstein. Unfortunately the winter garden was constructed after the king's death due to water problems and the other castles only got as far as models and plans. Though there is a recreation of Falkenstein Castle in Texas (link here: https://www.hillcountrycastle.com).
By now Ludwig II, King of Bavaria was falling out with his ministers even more than usual. Although he was decent enoph to use his own personal wealth instead of state funds for his projects, it all put him in great financial distress. He kept borrowing money from his relatives and attempted to make loans from royalty across Europe. He continued to work on his buildings non stop and ignored matters of state. He would dress up in costumes from his favorite stories and plays and act out scenes to no one. He usually dined alone and held conversations with historical figures long dead like Louis XIV of France. Another major issue was his sexuality. The king never had children, married or even have any mistresses, rare for a European monarch at the time. Through surviving diaries and personal letters we learn that Ludwig had strong homosexual desires and was deeply conflicted with them because of his strong Roman Catholic beliefs, especially since such feelings had not been punishable in the Kingdom of Bavaria since 1813, but were now illegal the German Empire. Although he was engaged to his cousin Duchess Sophie Charlotte and maybe did love her in a way, the relationship was canceled due to Ludwig constantly postponing the wedding.
In 1886 his fairy-tale reign came to an end and it was no 'happily ever after.' King Ludwig was up to 14 million marks in personal debt and continued to borrow money instead cutting his expenses like his advisers suggested. He was starting to feel like he was being constantly harassed by his ministers and decided to dismiss all of them and start all over. His government declared him paranoid and mentally insane, "proven," by a group of doctors who never even met him but one, and that was just once 12 years earlier, using only his diaries (that they later had burned) mention of his attractions to men. On June 10 of that year a government commission took the king into custody. Still loved by his subjects, supporters and allies rallied by his side but were soon dispersed. He tried to escape but was soon captured. He was taken to Berg Castle and his uncle, Luitpold was made Prince Regent.
Image from en/wikipedia.org
On June 13, the former king went for a walk with his personal doctor, Bernhard von Gudden, who was one of the doctors who declared him insane. Hours later they found Dr. Gudden and King Ludwig dead in Lake Starnberg. It was officially declared that the king probably strangled the doctor, since there was some sign of a struggle, and then committed suicide by drowning. However Ludwig was known to be a powerful swimmer and no water was found in his lungs at the autopsy. There is still mixed evidence on how they died and conspiracy theorist say that the Fairy Tale King was murdered. As he had no heir his brother, Otto, was made king. Sadly he had even more mental issues then Ludwig so their uncle continued to rule in his name. Today there's a chapel and memorial to the sad king's death and a memorial service every year at the lake on June 13.
However, King Ludwig now has the last laugh. History is much more sympathetic and better understanding of his symptoms. It is believed that he suffered from Pick's Disease or schizotypal personality disorder. His memory is still as beloved today as it was during his reign and his castles still stand as monuments of his unrealized dreams. They are now, ironically, world famous tourist attractions, bringing millions of marks into Bavaria and the Neuschwanstein Castle is even the inspiration for Sleeping Beauty's Castle at Disneyland.