Hello, my name is Charles and I'm here to preview the upcoming games Pokemon: Sword and Pokemon: Shield for the Nintendo Switch. These games marks the beginning of the 8th generation in Pokemon games.
These games take place in an entirely new region known as the Galar region which was based on the actual United Kingdom.
The cast of characters are the main character (gender: Male or Female)(name: your choice),
Leon (the Pokemon League Champion and the strongest pokemon trainer in the entire Galar region),
Hop (Rival/Leon's little brother),
Magnolia (Pokemon Professor),
Sonia (Magnolia's granddaughter/Leon's childhood friend),
Bede (Rival),
Marnie (Rival) and Team Yell (the Galar region's secret organization).
In conclusion, I believe these games will in fact be a new chapter in Pokemon gaming for they will also retain game elements from Pokemon: Let's Go! Eevee and Pokemon: Let's Go! Pikachu as well as Pokemon: Sun and Pokemon: Moon. These games are scheduled for release on Friday, November 15, 2019.
(Galar region-Map)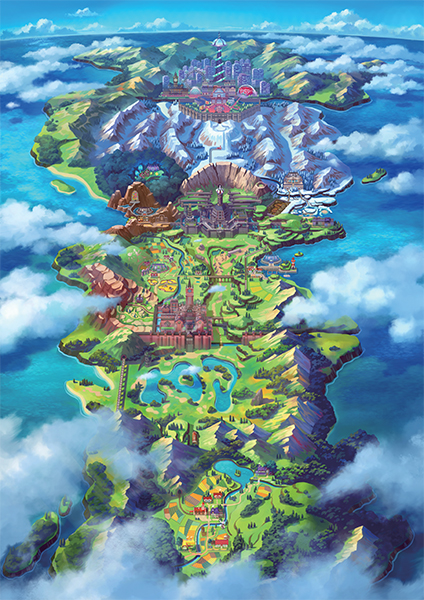 (Trailers)