Hello, my name is Charles and I'm here to review Pretty Soldier Sailor Moon: Another Story for the Super Nintendo. This game was originally released in Japan as Bishoujo Senshi Sailor Moon: Another Story. This game's  storyline takes place after the 3rd season of Sailor Moon (Sailor Moon S).
The Inner Senshi are Serena Tsukino/Princess Neo-Serenity of the Moon/Sailor Moon (Transformation Call: Moon Cosmic Power/Super Moon Crisis Power)(Techniques: Moon Tiara Action-Tiara based Boomerang, Moon Healing Escalation-Mystical healing spell, Moon Spiral Heart Attack and Rainbow Moon HeartAche-Techniques utilized via the Spiral Heart Moon Scepter),
Rini/Serena & Darien's future daughter from 30th century Crystal Tokyo/Sailor Mini-Moon (Transformation Call: Moon Prism Power)(Techniques: Pink Sugar Heart Attack and Pink Sugar HeartAche),
Ami Mizuno/Academic/Princess of the planet Mercury/Sailor Mercury (Transformation Call: Mercury Star Power)(Techniques: Mercury Bubbles-Mist/Freeze, Shine Aqua Illusion and Mercury Aqua Mirage),
Rei Hino/Spiritual Priestess/Princess of the planet Mars/Sailor Mars (Transformation Call: Mars Star Power)(Techniques: Mars Fire Soul-Ignite/Bird, Mars Celestial Fire Surround and Mars Fire-Snake),
Lita Kino/Martial Artist/Gourmet Cook/Princess of the planet Jupiter/Sailor Jupiter (Transformation Call: Jupiter Star Power)(Techniques: Supreme Thunder-Crash/Dragon, Jupiter ThunderCloud Zap and Jupiter Coconut Cyclone),
Mina Aino/Athlete/Idol in Training/Princess of the planet Venus/Sailor Venus (Transformation Call: Venus Star Power)(Techniques: Crescent Beam-Smash/Meteor Shower, Venus Love Chain-&-Circle and Venus Wink Sword).
The Outer Senshi are Amara Tenou/Race-Car Driver/Martial Artist/Princess of the planet Uranus/Sailor Uranus (Transformation Call: Uranus Planet Power)(Mystic Weapon: Space Sword)(Techniques: Uranus World Shaking and Space Sword Blaster),
Michelle Kaiou/ Violinist/Olympic Swimmer/Princess of the planet Neptune/Sailor Neptune (Transformation Call: Neptune Planet Power)(Mystic Weapon: Aqua Mirror)(Techniques: Neptune Deep Submerge and Submarine Reflection),
Trista Meiou/Academic/Guardian of Time/Princess of the planet Pluto/Sailor Pluto (Transformation Call: Pluto Planet Power)(Mystic Weapon: Chronol Staff)(Techniques: Pluto Deadly Scream, Chrono's Cyclone and Time Freeze),
Hotaru Tomoe/Rini's Best Friend/Guardian of Death & ReBirth/Princess of the planet Saturn/Sailor Saturn (Transformation Call: Saturn Planet Power)(Mystic Weapon: Silence Glaive aka the Grim Reaper's Scythe)(Technique: Deathly ReBirth Revolution).
A few of the locations featured this game are Tokyo, the North Pole, the ancient Moon Kingdom known as Silver Millenium (Past & Present) and Crystal Tokyo (Future circa 30th Century).
In conclusion, I found that this game truly symbolizes both the beliefs and ideals of Universal Trust & Friendship. Thus I quote in the words of Sailor Moon to evildoers everywhere "in the Name of the Moon, I shall Punish You!".
(Game Poster)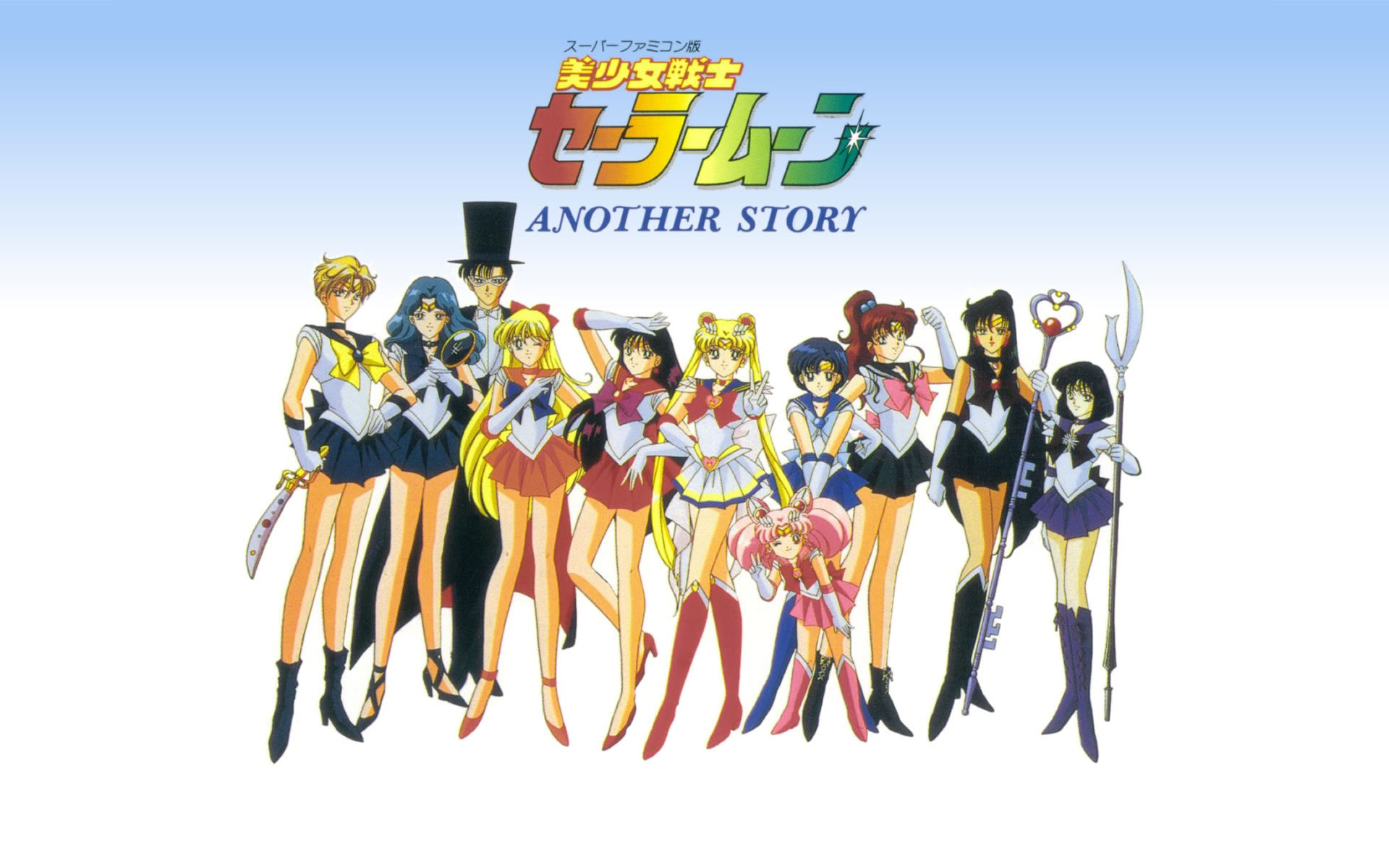 (Sailor Saturn's Silence Glaive)
(Sailor Uranus' Space Sword)
(Sailor Neptune's Aqua Mirror)
(Sailor Pluto's Chronol Staff)